Home
Navigation

Pizza Coupons and Special Offers
Domino's Pizza Selkirk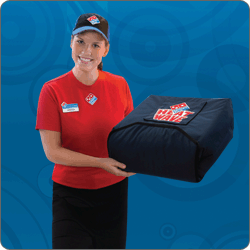 Domino's Pizza
Address
344 Main St.
Selkirk, MB R1A1T4
Categories: Pizza Delivery
Price Range: $$
Takes Reservations: No
Phone
204-482-1750
Hours
Su-Th 11:00am-1:00am
Fr-Sa 11:00am-3:00am
Domino's Pizza Selkirk
Looking for pizza delivery in Selkirk, Manitoba? Domino's pizza is located in the Newport Centre Strip Mall at the intersection of Main Street and McLean Avenue. For added convenience, this store is located just off the Selkirk Transportation at Vaughn and Main. Stop by for a fresh, hot carryout, or order a custom-made pizza for delivery to your Selkirk home.
Domino's Pizza offers a great variety of products to create your perfect meal. We have Feast Pizzas, chicken wings, specialty chicken, pasta bowls, bread sides, and dessert! Which wing sauce is your favourite? Choose from honey garlic, classic hot, or BBQ. Visit us in store or online today to discover which wing sauce goes best with your meal.
Domino's Coupons Selkirk
Browse our website for information on any of the following: deals and specials:
Domino's Coupons
Domino's Deals
Domino's Specials