Home
Navigation

Pizza Coupons and Special Offers
Domino's Pizza St. John's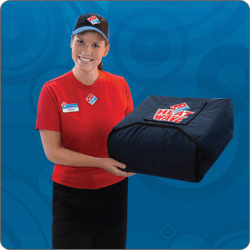 Domino's Pizza
Address
274 Freshwater Rd.
St John's, NL A1B1C1
Categories: Pizza Delivery
Price Range: $$
Takes Reservations: No
Phone
709-737-9444
Hours
Su-We 11:00am-11:00pm
Th 11:00am-12:00am
Fr-Sa 11:00am-1:00am
Domino's Pizza St. John's
Looking for pizza delivery in St. John's, NL? Domino's Pizza is centrally located at Freshwater Road and Elizabeth Avenue. We are only moments away from Memorial University and Avalon Mall. If you are studying for an exam and need a worry free meal, have Domino's deliver a fresh, hot pizza to your door! Have a long day of shopping planned at the biggest shopping centre in Newfoundland? Stop by for a quick carryout pizza for lunch!
Domino's Pizza has a large variety of products to choose from! Try one of our Feast Pizzas today. We have the ExtravaganZZa, MeatZZa, Deluxe, BBQ Chicken Feast, Pepperoni Feast, Veggie, Hawaiian, Philly Steak, and Canadian. What is your perfect Feast pizza? Don't forget to try one of our delicious chicken or bread sides with your meal!
Domino's Coupons St. John's
Browse our website for information on any of the following: deals and specials:
Domino's Coupons
Domino's Deals
Domino's Specials