Home
Navigation

Pizza Coupons and Special Offers
Domino's Pizza Okotoks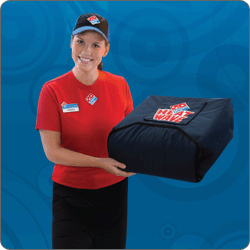 Domino's Pizza
Address
351-201 Southridge Dr.
Okotoks, AB T1S2E1
Categories: Pizza Delivery
Price Range: $$
Takes Reservations: No
Phone
403-995-1444
Hours
Mo-Tu 4:00pm-9:30pm
We-Th 4:00pm-10:00pm
Fr-Sa 12:00pm-11:00pm
Su 12:00pm-9:00pm
Domino's Pizza Okotoks
Looking for pizza delivery in Okotoks, Alberta? Look no further! Domino's offers both carryout and delivery options. Conveniently located at the intersection of Southridge Drive and Cimarron Boulevard, Domino's is never far away! Stop by for a carryout pizza made before your eyes to enjoy for lunch after running errands around town, or order pizza delivery to your home after visiting Wylie Athletic Park. No matter what the occasion is, Domino's can help provide you and your family with a delicious, hassle-free meal!
Domino's Pizza has something for everyone! With a variety of options, you can now choose from Feast Pizzas, chicken wings, specialty chicken, pasta bowls, bread sides, refreshments, and even dessert! Craving something sweet? Add on an order of Cinnastix or a Chocolate Lava Crunch Cake to your meal today. Go ahead, you deserve it!
Domino's Coupons Okotoks
Browse our website for information on any of the following: deals and specials:
Domino's Coupons
Domino's Deals
Domino's Specials