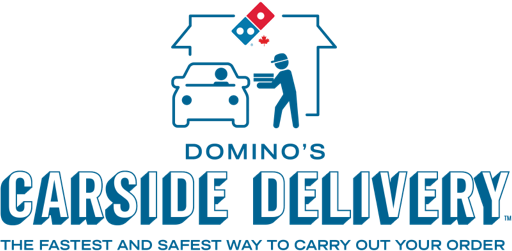 Alongside Zero Contact Delivery, we want to provide our customers new safe ways to carry out. Domino's Carside Delivery gives customers the option to stay in their vehicle while a team member delivers their order to them, making for a convenient, contactless carryout experience. It's carryout, delivered.
How Carside Delivery Works

Select the option Carside Delivery when you place your carryout order.

Provide your vehicle information to help our team members to identify you once you arrive.

Keep up to date on the status of your order with Domino's Tracker.

Tap "I'M HERE" on the Domino's Tracker or in your confirmation email once you arrive.
Legal Stuff: ©2020 Domino's IP Holder LLC. Domino's®, Domino's Pizza® and the modular logo are registered trademarks of Domino's® IP Holder LLC.
While Domino's and its affiliates do their best to accommodate a customer's delivery instructions, they cannot guarantee that a customer's request, including for Zero Contact delivery and carryout, can or will be honored by a store. Domino's and its affiliates reserve the right to use the delivery process that they deem necessary or appropriate in their sole discretion. Domino's and its affiliates are not responsible for errors or mistakes that may occur during the delivery.